Advantages of Our Screw Pile Foundation
Fast Installation
There is no need to wait for the concrete in the foundation to fully cure for 21 days. The walls can be erected immediately after the completion of the foundation construction.

Precision Installation
The precision of installation and assembly is ensured by a sharp and solid tip, with an error limit of 10 mm.
Load-bearing capacity
The provided load on a single screw pile is 5-7 tons when installed with a recommended spacing of no more than 2 meters.
Installed throughout the year
Piles are capable of being installed throughout the year.
When installed according to the technology, a foundation made of metal screw piles is designed to last for 50-70 years.
The South Ural Screw Piles Plant "Egoza" is a Russian manufacturer of screw foundations.
Since 2015, we have been developing, designing, manufacturing, and supplying screw piles, pile caps, and turnkey foundation solutions both wholesale and retail.
The companies products are manufactured under a recognized international trademark. Manufacture of Egoza wire is certified by ISO 9001 Certificate.
Since 2012, the South Ural Screw Pile Plant "Egoza" has been working in partnership with the Perimeter
Fencing Plant "Egoza,"
which is part of the company group "Russian Strategy" LLC. The Perimeter Fencing Plant is a specialized enterprise in the field of protective fencing and metal piles, operating in the market since 1992.
EGOZA South Ural Screw Pile Plant offers:
MANUFACTURING AND PRODUCTS ARE CERTIFIED
Reviews
The company "Smolensky KHP" thanks the company "RUSSKAYA STRATEGIYA" for being careful in their work.
The steel screw piles were made quickly, of high quality, and delivered on time.
Thank you to Liya Islamovna Somova, who is in charge of selling things, for being very professional and fixing problems quickly.
The Chief Procurement Officer of Smolensky KHP, LLC, V.A. Goncharuk.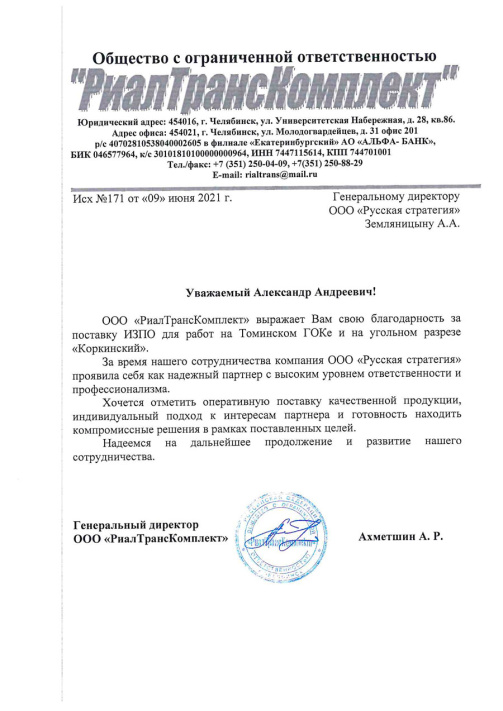 LLC "RealTransKomplekt" expresses its gratitude to you for supplying equipment and materials for work at the Tominsky GOK and the Korkinsky coal mine. During our cooperation, LLC "Russian Strategy" has proven to be a reliable partner with a high level of responsibility and professionalism. We would like to highlight the prompt delivery of quality products, individual approach to the partner's interests, and readiness to find compromise solutions within the set goals. We hope for further continuation and development of our cooperation.
A.R. Akhmetshin, General Director of LLC "RealTransKomplekt"
The management of LLC "EnergoRemStroyService" expresses gratitude to the team of LLC "Russian Strategy" for the successful completion of manufacturing and supply volumes of "Egoza" screw piles, as well as perimeter protection systems (Topaz panel fencing, Egoza barbed wire) for the construction of the A.A. Vlaznev Samara Solar Power Station with an installed capacity of 25 MW in the city of Orsk. The completed work allows us to recommend the use of "Egoza" screw piles and perimeter protection systems (Topaz panel fencing, Egoza barbed wire) for the construction of solar power plants (SPP).
A.A. Kulikov, Director of LLC "EnergoRemStroyService"
PJSC "T Plus" (formerly JSC "Volzhskaya TGC") is the largest private Russian company operating in the field of electric power and heat supply. The company ensures stable and uninterrupted energy supply in 16 regions of Russia. Alexander Frolov, Director of the Investment Projects Implementation Department of PJSC "T Plus" in Orsk, expresses gratitude to LLC "Russian Strategy" for their participation in the construction of the Sakmar Solar Photovoltaic Power Station named after A.A. Vlaznev with an installed capacity of 25 MW in Orsk. During our collaboration with LLC "Russian Strategy," they have confirmed their high professional status, competence, and proactiveness in solving assigned tasks. They have proven themselves as a reliable and stable partner, providing a flexible approach to the customer's needs and demonstrating high responsiveness. Thanks to the company's main principle of establishing partnership relations with clients based on mutual cooperation and professionalism, we believe that the company has a stable position in the field of manufacturing and supplying "Egoza" screw piles and comprehensive security systems in the perimeter protection area.
A.G. Frolov, Director of the Orsk Branch for Investment Project Implementation, PJSC "T Plus."
LLC "TREYDKOM" expresses gratitude to the Marketing and Sales Department and the Design Bureau of the South Ural Screw Pile Plant "Egoza" in Miass for their professional competence, responsibility, and friendliness in solving tasks related to the production and supply of anti-dig mesh, "Egoza" screw piles, and their components.
During our cooperation with the South Ural Screw Pile Plant "Egoza," we have observed their commitment, flexibility, and willingness to find joint solutions to the given tasks, taking into account all possible nuances during the further implementation of the client's construction project.
E.V. Reva, LLC "TREYDKOM"
As per your request, OAO "Fundamentproekt" has reviewed the technical solutions album "Steel Screw Pile" (version No. 02.15) developed by LLC "Russian Strategy".
We consider it necessary to note that:
- The pile structures presented in the album can be used in modern construction for the foundation of lightweight prefabricated and rapidly erected structures, as well as for the foundations of industrial buildings and warehouse facilities related to communication, power supply, and transportation purposes.
- The pile structures are developed in sufficient detail within a range of standard sizes intended to withstand loads ranging from small ones (lighting supports) to significant ones (frame buildings, bridges).
- in various climatic and soil conditions of the Russian Federation.
- в отдельных разделах альбома приведены рекомендации по устройству фундаментов на винтовых сваях, общие требования к конструированию и проектированию фундаментов;
- the album provides instructions for calculating the load-bearing capacity of screw piles in various soil conditions, including permafrost soils, along with calculation examples.
- the pile caps provided in the album are designed for attaching the upper structures, which allows for ordering both the piles and pile caps simultaneously and enables the installation of pile caps without the need for separate design work. Examples of attaching various foundation structures to the pile caps are given..
We consider that the Technical Solutions Album "Steel Screw Pile" (version 02.15) is executed at a good engineering and technical level and deserves implementation.
B.N. Smolin, Chief Engineer of OAO "FUNDAMENTPROEKT"
4 SIMPLE STEPS of Collaboration with Us
You submit your request on our website or send your inquiry to our email address info@uralzvs.ru
Our specialist will contact you within 15 minutes to clarify the details.
We will prepare and finalize a detailed technical specification for your project.
We enter into a contract and commence the work!